Your Payment Recovery &

Draft Retention Experts!
Early and late state municipality collections agency

Recover up to 80% of your failed drafts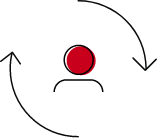 Retain members at a much lower cost than acquiring new ones

Support your brand and member experience with positive connections

Provide ROIs that can exceed 600%
Fill the form below to learn more
"FCS has been our EBO partner for over 5 years. Since working with them, our hospital has realized significant drops in our dispute resolution times and the amount of bad debt we send to collections. They've truly mastered the art of navigating insurance claims and patient reimbursement. We look forward to working with them for many more years. "
Director of Billing - East Coast Hospital Network
"We have very strict requirements in place that need to be met by our collection vendors. FCS checked all our boxes and continue to pass our ongoing compliance and regulatory audits. We also set very aggressive collection goals for our Third-Party Agencies. FCS has always met or exceed those targets. I highly recommend FCS for your collection needs. "
Director of Collections - Fortune 500 Auto Finance Company
"First Credit takes over the difficult task of communicating and working with delinquent patients. Their integration with our billing platform has streamlined the entire process taking the stress off our lab managers. FCS enables our operating teams to focus on what's important, providing great service for our patients."
CFO - Clinical Laboratory Company